A Bit Of History Of Hitachi PBX...
In the mid 1970's, Hitachi Telecom began producing quality PBX systems for use in the Hospitality (USA) market. These systems were designed exclusively for the Hospitality market and provided a great cost reduction solution compared to Western Electric systems provided by the Bell companies.
Through the years the AX Crossbar (1972-1978), the EX Solid State (1978-1983), the DX Space Switch (1983-1987) and the HCX Time Division Multiplex (1987-2004) PBX systems were installed throughout the USA, taking the lion's share of the Hospitality market.
Unlike the Avaya and Nortel PBX systems, which are on the verge of extinction, the Hitachi HCX PBX systems are still very much alive in many hotels. With technology moving to Internet protocol (IP) and a high potential for wireless in our future, Hoteliers have been hesitant to invest in a new Hotel PBX system; that let's face it, is rarely used by the guests, and may become outdated as soon as the installation is finished.
Devera Technologies: A One-Stop-Shop For Hitachi PBX
At Devera Technologies, we offer a one-stop-shop for all your Hitachi needs; from hardware replacement, backup software, and documentation, to services and support for the Hitachi HCX 5100, 5300, 5400 and 5500 models. Even if your current software is running without backups (or not running at all), Devera can fix, grab your current database, and back it up in the form of an "image" on our cloud drive. When (not if) your current hard drive fails, Devera can re-create your data and send you a replacement drive within 48 hours.
We also stock a full inventory of Power Supplies, which you may already know, have a tendency to fail at the worst possible moments. Be assured though, the CPSP, RGMW, CPPW, SPPW, MWPW, or RGPWA can be sent to your property within 24 hours - restoring service quickly and efficiently, should the need arise.
To learn about Power Supplies and Hard Drives (the only major parts that usually fail), click here.
In addition, we offer a service plan that covers everything within the four corners of your Hitachi HCX 5000. The cost is only a dollar per room per month. For larger properties, this minimal cost can even be negotiated!
To learn about our service plan, Click here.
OR, to learn more about your Hitachi HCX, click here and we'll send you a free PDF file with complete details regarding your system.
Learn More About Your Hitachi
To get started, let us guide you in identifying what you have. Below, we have provided pictures of each system in existence:
HCX 5100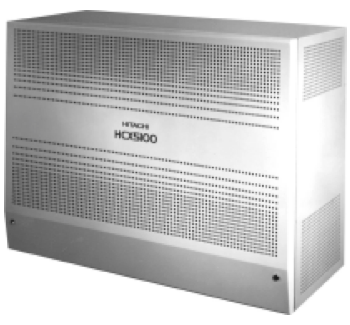 HCX 5300, 5400 or 5500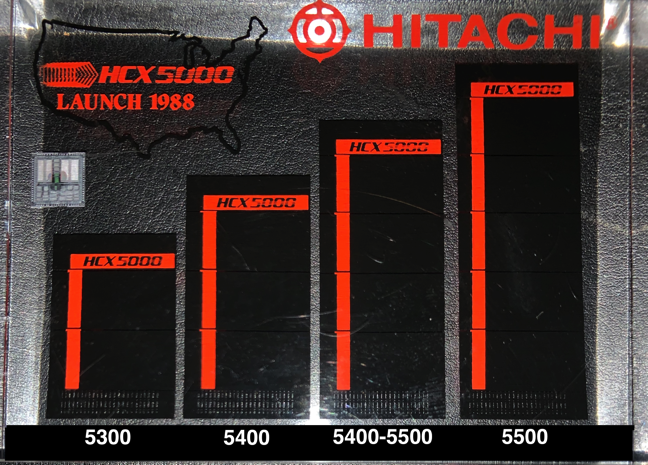 What Model Hitachi Do You Have?
Hcx 5100, Hcx 5300, Hcx 5400, Hcx 5500 Or Unidentifiable?
What Hitachi Software Do You Have?
Next, let's identify the 'SO' and software number for your system. This can be found on the floppy disk within your Hitachi.
The 'SO' number tells us when your Hitachi HCX 5000 was manufactured, and your software number tells us the following (depending on which version you have):
HCX 7.0A or 7.0B
This software was introduced in 1994 to suffice the "NANP" North American Numbering Plan change, allowing for NNX Area codes. This is the basic version of HCX software which includes:
North American Numbering Plan (NANP)
ACD Calls Waiting Queue Indicator
Addition/Deletion of Prefix for PMS and PMSHOBIC
Administrable Outgoing Restriction Table
Attendant Recall to Multiple Attendants
Automated Data Generation
Basic Rate Interface (BRI)
BCL Designation for 9-Less Dialing
CallMe Return Default by BCL
Call Restriction Enhancements
Call Waiting to VMS for DID
CMAT/Remote CMAT Entry Screen Enhancements
Combined Alarms
Credit Limit Report Enhancement
DISA Administered Off-Line
DMFT Multi-Line Monitor
Emergency Alert Termination
Expanded Carrier Access Code (101XXXX)
Expanded Service Codes (Use * and # for special services.)
Forced Account Code
Enhancement Internal Call Return Message Waiting for Admin Phones Sent to PMS
Remote Call Coverage
Room Status Enhancements
SelecSet 700 Series Multifunction Telephones
Special Calls Enhancement
Stutter Dial Tone
Tax Algorithm Change
Transfer Internal Call to 0
WelCOMM GuestMail (WelCOMM VoiceMemo II name change)
911 Service
0+ Routing (Operator Express)
HCX 7.3A or 7.3B
Introduced in 1996, this software has the same features as the 7.0 series with the following enhancements:
Attendant Continuous Ringing
Caller ID Interactions with Call Transfer
Call Waiting Caller ID
IOC Initialization
Key Group Enhancements
Remote Monitor of IOC Ports
Seconds Displayed on SMDR
Special Number Routing
Switch-hook Flash to a Trunk
Trunk Answer From Any Station (TAFAS)
911 Alert to SMDR/PMS Hobic
HCX 7.4A, 7.4B, 7.4D
This software was introduced in 1997. Depending on your type of system (7.4D was introduced for the HCX 5100), it is the same as 7.3 series with the following enhancements:
9-less Station to Station Access Code
Autodial Key Assignment for Key Groups
Caribbean NPAs for V&H
Emergency Alert Alarm for MFTs
Fault Recovery for Clock Alarm
Four Digit Year Field
Option for SMDR Call Records
Increased Key Group Maximums
Maid ID
Reset Local Office Codes for V&H
Selective Ringing for Hotel Groups
Tone Key Enhancement
Variable CMAT Interface
HCX 8.0A, 8.0B or 8.0D
Introduced in 1999, this software is the same as the 7.4 series with the following enhancements:
ANI Block
Attendant Interflow
Bridged CAPs
Caller ID Translation Table
Clear Call Block on Checkout
Continuous Ringing for SelecSets
CTI (Computer Telephone Integration)
Daily Wakeup Registrations
Disable Feature Access Codes for Rooms
Do Not Disturb Forwarding Language and VIP Indicators
Multiple Language
Wakeup Multiple Music on Hold
PRI Calling Name Suite Group:
TAFAS Ring Monitor and Busy Lamp Field for SelecSets
VIP Wakeup
WelCOMM GuestMail Enhancements
Send name to VMS at check-in
Send language and VIP indicators to VMS
HCX 9.0A, 9.0B or 9.0D
Introduced after the turn of the century, in 2001, this software is the same as the 8.0 series with the following enhancements:
ANI Block Enhancement
Attendant Traffic Reports Enhancement
Audible and Visible Alarms
Block Directory Name
Call Record Transmission Using HOBIC Merge to PMS HOBIC interfaces
CMAT Enhancements

Call Coverage
Call Forwarding
Direct Screen Access Indexing Capability

Station Data Display CTI (Computer Telephony Interface)
Data Warehouse Interface
Fault Dump Format Enhancement
Headset Enhancement
High Speed Data Access to Guest and Conference Rooms
Point of Sale Access Code
PRI Diagnostic Tools
PRI Circuit Status Tool
PRI Make Busy/Idle Tool
PRI Trace Tool PRI Enhancement—NI2/3 Interface:

Calling Number ID
Calling Name ID
Call-by-Call Service Selection
B-Channel Availability Control

SelecSet 900 Series Multifunction Phones
SelecSet 900 Soft Key Menu Features

Autodial Key Programming Coverage
Do Not Disturb
Redial
Name/Number Search

Reminder Call Suite Group Enhancement
Mixed Phones in Hotel Groups
Group Hold Enhancement
Trouble and Warning Message Log Wrapping
Trouble Message Output Control
HCX 9.1A, 9.1B or 9.1D
And lastly, introduced in 2002, this advanced software does just about everything each of its' predecessors did. What Type Of Software Do You Have?
Including: HCX 7.3A, HCX 7.3B, HCS 7.4A, HCX 7.4B, HCX 7.4D, HCX 8.0A, HCX 8.0B, HCX 8.0D, HCX 9.0A, HCX 9.0B, HCX 9.0D, and no floppy disk found.